Privacy Statement last updated 7/22/2022
Categories of Personal Information We Collect
When you use our platform, Apps, or associated tools or services, we may collect the following kinds of personal information from you as needed:
· Name, username, email address, telephone number, and home, business, and billing addressees (including street and postal code)
· Payment information such as payment card number, expiration date, billing address, and financial account number
· Birth date and gender
· Geolocation
· Images, videos, and other recordings
· Social media account ID and other publicly available information
· Communications with us
· Searches you conduct, transactions, and other interactions with you on our online services and Apps
· Other communications that occur through the platform
· The searches and transactions conducted through the platform
· Data you give us about other people or entities
When you install any of our apps or use our platform, we automatically collect the following types of information from your device:
· IP address
· Device type
· Unique device identification numbers
· Internet browser-type (such as Firefox, Safari, Chrome, and Internet Explorer)
· Internet Service Provider
· Operating System
· Mobile carrier
· How your device has interacted with our online services, including the pages accessed, links clicked, trips viewed, and features used, along with associated dates and times
· Details of any referring website or exit pages, as well as general geographic location (such as at the country or city-level)
Our Cookie Statement section, included below in this Privacy Statement, further
explains how we use cookies and similar tracking technology.
Use of Personal Information
We use your personal information for various purposes described below, which depend on the site you visit or the app you use.
Your Use of Online Sites, Apps, and Services:
· Provide services
· Create, maintain, and update user accounts on our platform and authenticate you as a user
· Enable and facilitate acceptance and processing of payments, coupons, and other transactions
Communications and Marketing:
· Respond to your questions, requests for information, and process information choices
· Contact you (such as by text message, email, phone calls, mail, push notifications, or messages on other communication platforms)
· Market our services, optimize such marketing to be more relevant to you, and measure and analyze the effectiveness of our marketing and promotions
Other Business Purposes and Compliance
· Conduct surveys, market research, and data analytics
· Maintain, improve, research, and measure the effectiveness of our sites and apps, activities, tools, and services
· Monitor or record calls, chats, and other communications with our customer service team and other representatives, as well as platform communications between or among partners
· Promote security, verify identity of our customers, prevent and investigate fraud and unauthorized activities, defend against claims and other liabilities, and manage other risks
· Comply with applicable laws, protect our and our users' rights and interest, defend ourselves, and respond to law enforcement, other legal authorities, and requests that are part of a legal process
· Comply with applicable security and anti-terrorism, anti-bribery, customs and immigration, and other such due diligence laws and requirements
· Operate our business using lawful business purposes and as permitted by law
Lawful bases for processing:
We will collect personal information from you only (i) where the personal information is necessary to perform a contract with you, (ii) where the processing is in our legitimate interests and not overridden by your rights (as explained below), or (iii) where we have your consent to do so (e.g., sending you marketing communications where consent is required). In some cases, we will have a legal obligation to collect personal information from you such as where it is necessary to use your transaction history to complete our financial and tax obligations under the law.
If we ask you to provide personal information to comply with a legal requirement or to perform a contract with you, we will make this clear at the relevant time and advise you whether the provision of your personal information is mandatory or not (as well as of the possible consequences if you do not provide your personal information).
Certain countries and regions allow us to process personal information on the basis of legitimate interests. If we collect and use your personal information in reliance on our legitimate interests (or the legitimate interests of any third-party), this interest will typically be to operate or improve our platform and communicate with you as necessary to provide our services to you, for security verification purposes when you contact us, to respond to your queries, undertaking marketing, or for the purposes of potentially detecting or preventing illegal activities.
Your Rights and Choices
You have certain rights and choices with respect to your personal information, as described below:
· You can control our use of certain cookies by following the guidance in our Cookie Statement included below in this Privacy Statement.
· If you no longer wish to receive marketing and promotional emails, you may unsubscribe by clicking the 'unsubscribe' link in the email
· If we are processing your personal information on the basis of consent, you may withdraw that consent at any time by contacting us. Withdrawing your consent will not affect the lawfulness of any processing that occurred before you withdrew consent and it will not affect our processing of your personal information that is conducted in reliance on a legal basis other than consent
Certain countries and regions provide their residents with additional rights relating to personal information. These additional rights vary by country and region
In addition to the above rights, you may have the right to complain to a data protection authority about our collection and use of your personal information. However, we encourage you to contact us first so we can do our best to resolve your concern. We respond to all requests we receive from individuals wanting to exercise their personal data protection rights in accordance with applicable data protection laws.
Security
We want you to feel confident about using our platform and all associated tools and services, and we are committed to taking appropriate steps to protect the information we collect. While no company can guarantee absolute security, we do take reasonable steps to implement appropriate physical, technical, and organizational measures to protect the personal information that we collect and process.
Record Retention
We will retain your personal information in accordance with all applicable laws, for as long as it may be relevant to fulfill the purposes set forth in this Privacy Statement, unless a longer retention period is required or permitted by law. We will deidentify, aggregate, or otherwise anonymize your personal information if we intend to use it for analytical purposes or trend analysis over longer periods of time.
Updates to Statement
We may update this Statement in response to changing laws or technical or business developments. If we propose to make any material changes, we will notify you by means of a notice on this page. You can see when this Privacy Statement was last updated by checking the "last updated" date displayed at the top of this Statement.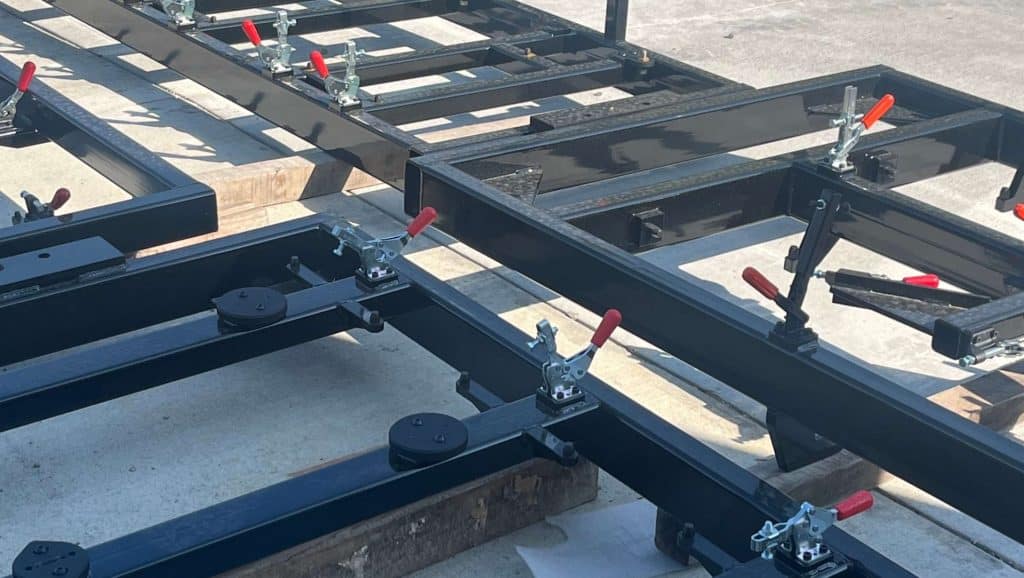 Kinetic Technologies makes custom welding fixtures the right way, with superior quality and automation capabilities tailored to your unique parts...